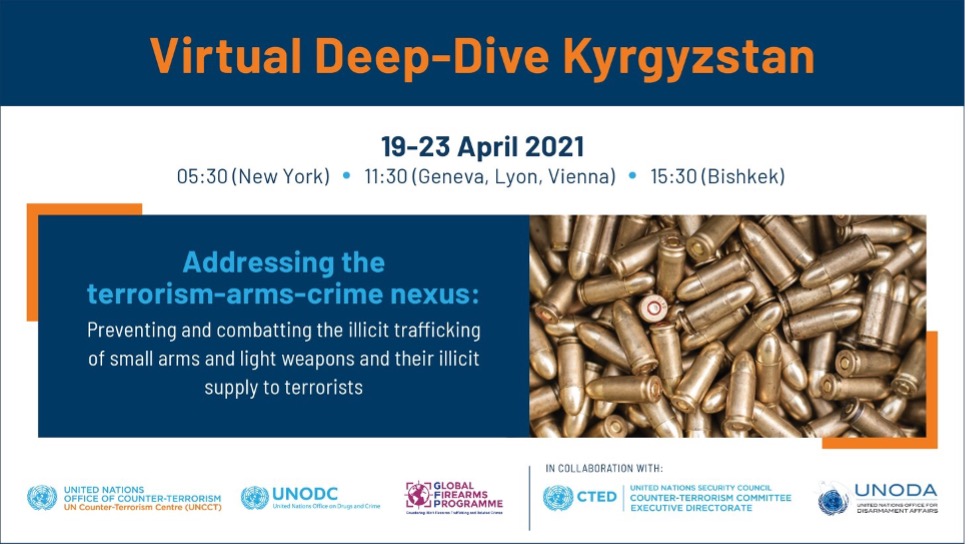 UNODC Global Firearms Programme, CTED and UNCCT virtual deep-dive assessment mission to Kyrgyzstan related to firearms
Activity description
From 19 to 23 April 2021, the United Nations Counter-Terrorism Committee Executive Directorate (CTED), leading the assessment component of the project, together with the United Nations Counter-Terrorism Centre of the United Nations Office of Counterterrorism (UNOCT/UNCCT), the United Nations Office on Drugs and Crime (UNODC) and the United Nations Office for Disarmament Affairs (UNODA) conducted a virtual deep-dive assessment mission in Kyrgyzstan.
The mission allowed for a dialogue between national institutions and project stakeholders to ensure a comprehensive understanding of the current situation related to illicit SALW trafficking and its links to terrorism in Kyrgyzstan and the Central Asian region as a whole. National institutions discussed their current initiatives and capacities to prevent and combat the illicit trafficking of SALW and their supply to terrorists, as well as the status of implementation of relevant international instruments and Security Council resolutions on counterterrorism, including resolutions 1373 (2001), 2462 (2019), 2482 (2019) adopted in this field. It also allowed the United Nations and Kyrgyz authorities to analyse the existing legislative, institutional and operational framework and response capacity, as well as to identify priority technical assistance needs, which would be addressed and supported in the framework of the given project.
Project description
The virtual deep-dive assessment mission is part of the UNCCT and UNODC project on "Addressing the terrorism-arms-crime nexus: Preventing and combatting the illicit trafficking of small arms and light weapons and their illicit supply to terrorists in Central Asia", funded by the Russian Federation and the Kingdom of Saudi Arabia.
Type of Activity

Institutional capacity-building

Legal or legislative assistance
Focus of Activity
International instruments
Inventory and stockpile management
Small arms and light weapons (SALW) controls
Transit and trans-shipment controls
Partners
Implementers
UN Counter Terrorism Centre (UNCCT)
UN Counter-Terrorism Committee Executive Directorate (CTED)
United Nations Office on Drugs and Crime (UNODC)
Donors
Contact Details
Contact Person
Simonetta Grassi, Chief of Firearms Trafficking Section, simonetta.grassi@un.org
Organization
United Nations Office on Drugs and Crime – UNODC, Firearms Trafficking Section, Organised Crime and Illicit Trafficking Branch, Division for Treaty Affairs