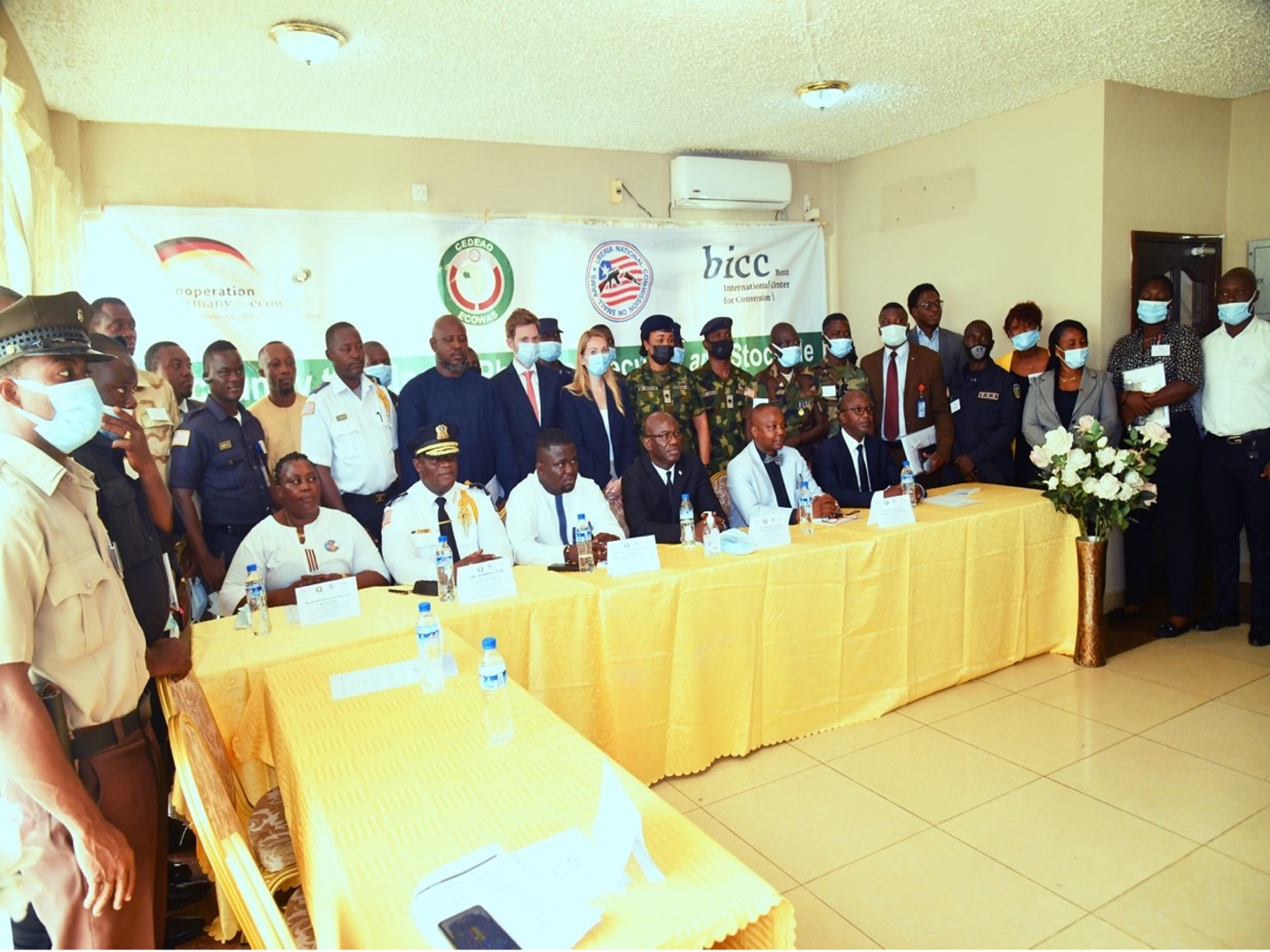 BICC Weapons and Ammunition Management Training in Liberia
Activity description
On 11 - 15 October 2021 in Monrovia, Liberia, BICC supported the organisation and implementation of a national-level Weapons and Ammunition Management (WAM) training. This in-country training initiative was based on a request made by the Liberia National Commission on Small Arms (LiNCSA) to the ECOWAS Commission for a national WAM / PSSM training. 25 representatives from eight different security agencies, including the Liberia Immigration Service, the Liberia National Police, the Executive Protection Service, the National Security Agency, the Liberia Drug Enforcement Agency, the Armed Forces of Liberia, the Liberia Revenue Authority as well as LiNCSA participated in the training.
Project description
The project "Supporting small arms and light weapons (SALW) control in Africa" started in April 2021 and funded by the German Federal Foreign Office (GFFO), aims at continuing providing support to the African Union and its Regional Economic Communities, Regional Bodies and Member States to coordinate and implement arms control measures at a strategical, technical and policy level. Therefore, BICC is working with the African Union, the Economic Community of West African States (ECOWAS), the Regional Centre on Small Arms (RECSA) and the Khartoum-based Sub Regional Small Arms Control Mechanism (SARCOM) as well as some of their member states to support the implementation of international and regional small arms control instruments such as the United Nations Programme of Action on Small Arms and Light Weapons (UN PoA),the Arms Trade Treaty (ATT), the African Union Silencing the Guns Plan of Action, the Nairobi Protocol and the ECOWAS Convention.
Its efforts range from harmonizing national small arms control legislation and guidelines with international and regional instruments, through capacity building along the entire spectrum of weapons and ammunition management, including marking, record keeping, tracing, and destruction of weapons and ammunition, as well as physical security and stockpile management (PSSM), to cross-border cooperation on small arms control.
Type of Activity

Institutional capacity-building

Technical material or financial assistance
Focus of Activity
Inventory and stockpile management
Small arms and light weapons (SALW) controls
Partners
Implementers
Bonn International Centre for Conflict Studies (BICC)
Economic Community Of West African States (ECOWAS)
Donors
Contact Details
Contact Person
David Häfner
Organization
Bonn International Center for Converstion (BICC)
Address
Pfarrer-Byns-Straße 1, 53121 Bonn, Germany