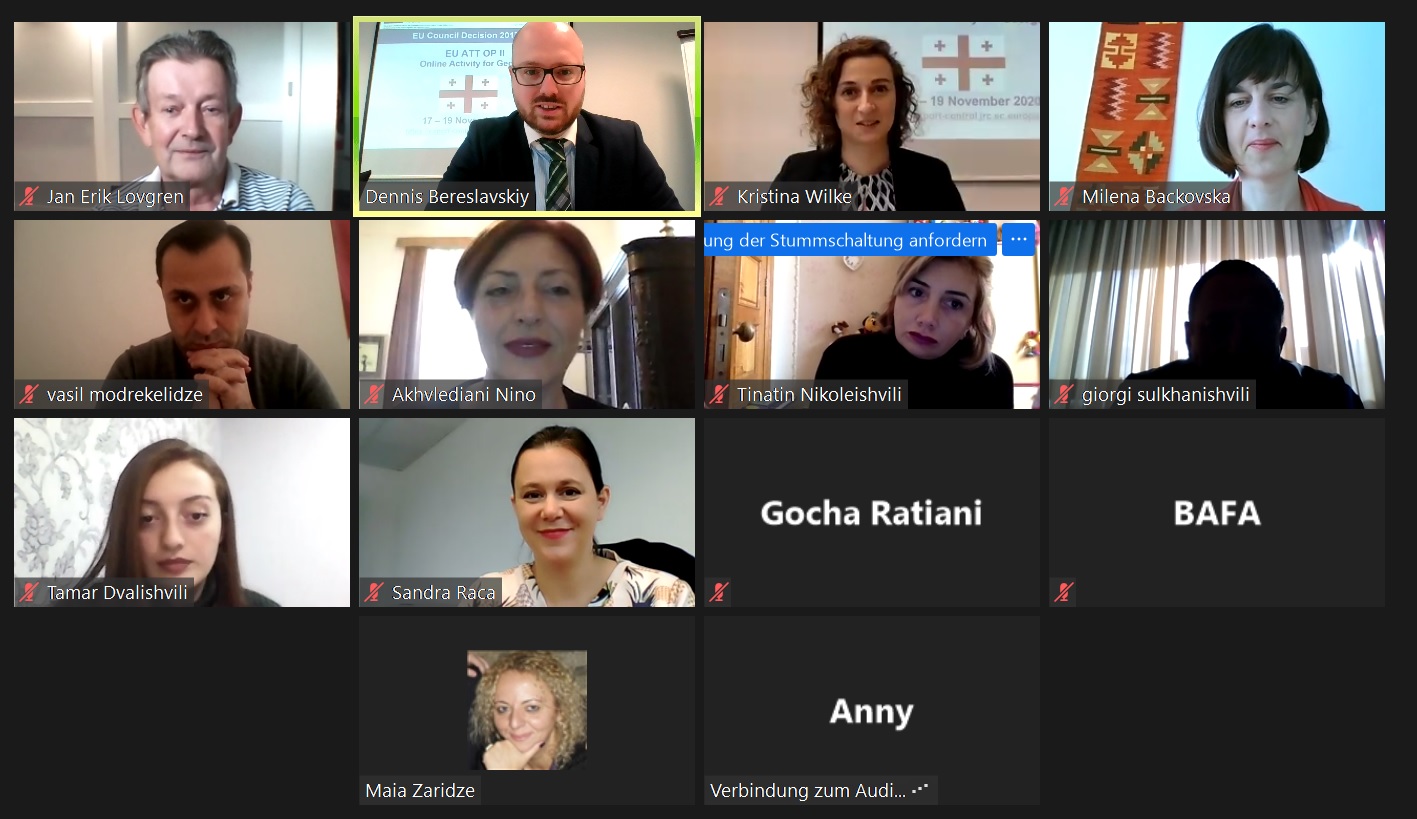 EU ATT Outreach Project II - Online Activity for Georgia
Activity description
From 17 to 19 November 2020, an online activity for Georgia took place in the framework of the EU Arms Trade Treaty Outreach Project II (EU ATT OP II) based on the EU Council Decision 2017/915/CFSP. Georgia became a partner country in the first project phase under the scope of the EU Council Decision 2017/915/CFSP and continued its cooperation within the second phase of the project.
Georgia has recently restructured licensing department and aims to establish a sound ICP system and to enhance its outreach to industry approach. In addition, Georgia plans to close possible gaps in their legislation regarding the control of civilian and commercial weapons and the regulation of cold weapons. Therefore, this seminar aimed to inform the participants from the licensing authority on the above mentioned topics and to provide them with the opportunity to have their respective questions answered in order to facilitate the process on implementing the foreseen changes and updates in Georgian export control system. In total, 8 licensing officials of the Georgian Ministry of Defence, the licensing authority, attended the event on all three days and engaged in relevant discussions.
The online seminar was split into three separate sessions. The first day focused on monitoring and audits of companies, focusing on the legal basis and good practices from the Czech Republic and Germany. The second workshop session depicted the control of commercial/civilian weapons in comparison to military weapons and the regulation of other types of weapons. The final workshop day was dedicated on outreach to industry and internal compliance programmes (ICP), presenting both the perspective of a licensing authority and the industries. The seminar facilitated interactive discussions among participants and EU experts. The activity was supported by six experts in the field of export controls from the Czech Republic, Germany and Sweden, and organised by the implementing entity BAFA (Federal Office for Eco-nomic Affairs and Export Control), Germany.
Project description
The goal of 'EU ATT Outreach Project (EU ATT-OP)', as part of the European Union Partner-to-Partner (EUP2P) Export Control Programme, is to support the effective implementation of the ATT. Upon request, the project will support a number of States in strengthening their arms transfer control systems with a view to being able to implement the ATT. The project also aims to increase awareness and ownership of the ATT at national and regional levels and therein contribute to its universalisation. A second edition of the project was initiated on 29 May 2017 by Council Decision 2017/915 and it is co-implemented by BAFA and Expertise France.The EU ATT Outreach Project has three different components: 1) Tailored National Assistance Programmes; 2) Ad-hoc Activities; and 3) Regional Seminars. National assistance programmes are developed in close cooperation with partner countries. Key elements of national assistance programmes are: an initial needs assessment visit; inclusive roadmap development; and, practical support follow up activities.
Type of Activity

Institutional capacity-building

Legal or legislative assistance

Sensitization and outreach
Focus of Activity
International instruments
Small arms and light weapons (SALW) controls
Transit and trans-shipment controls
Partners
Implementers
German Federal Office for Economic Affairs and Export Control (BAFA)
Donors
Contact Details
Organization
Federal Office for Economic Affairs and Export Control (BAFA)
Address
Frankfurter Str. 29-35, 65760 Eschborn, Germany
Phone
+49 6196 908 - 2602
Fax
+49 6196 908 11 - 2602