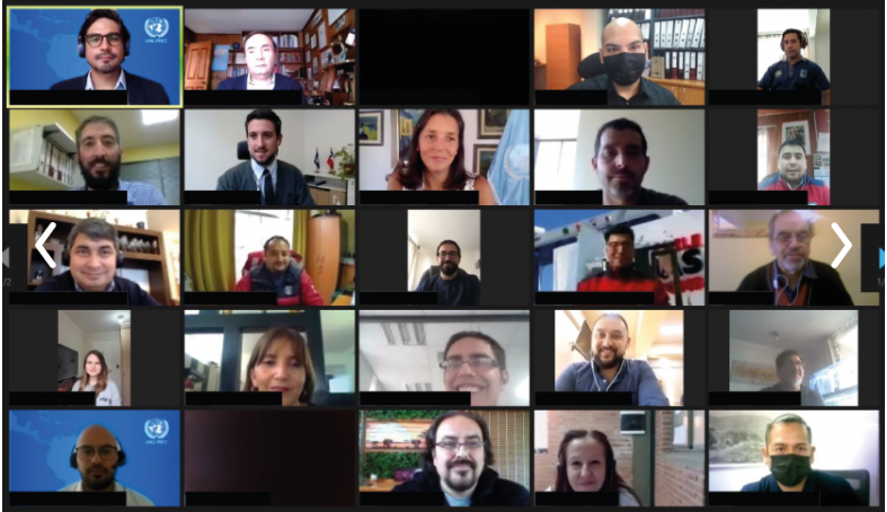 UNLIREC trains Chilean X-ray operators to identify weapons, ammunition, and explosives
Activity description
As part of the technical assistance that it provides the countries in the region, between 19th and 23rd April 2021, UNLIREC carried out an online course on 'Interdicting Small Arms, Ammunition, Parts and Components Course (ISAAPC)'. The course was aimed at X-ray operators from the National Customs Service and the Directorate General of Civil Aviation in Chile.
ISAAPC's aim is to support national efforts to combat and prevent the illicit trafficking of firearms, ammunition, parts, components, and explosives through postal shipments, parcels, and luggage.
Through a combination of theory and practice, a group of 40 operators learnt about the fundamental aspects of X-ray technology and received training in identifying firearms, parts, components, ammunition, and explosives. The course included a special session on less dangerous firearms such as compressed air guns, blank guns, and replicas, among others, which illustrated how these differ from conventional firearms. Another session focused on concealment methods commonly used by trafficking networks.
The course's sessions were supplemented by practical training on a platform built by the Centre for Adaptive Security Research and Applications (CASRA), on which participants could develop their ability to recognise these types of threat. This specialised technical course has been designed to allow X-ray screening operators to receive continuous training to optimise security at entry, exit, and transit points in the region.
The course was funded by the Arms Trade Treaty's Voluntary Trust Fund, of which Chile is a beneficiary and UNLIREC, at the request of the Chilean government, is an implementing partner.
Project description
The course was part of a project funded by the ATT Voluntary Trust Fund (VTF), of which Chile is a beneficiary and in which UNLIREC, at the request of the Chilean authorities, is an implementing partner
Type of Activity

Institutional capacity-building

Technical material or financial assistance
Focus of Activity
Small arms and light weapons (SALW) controls
Transit and trans-shipment controls
Partners
Implementers
United Nations Regional Centre for Peace, Disarmament and Development in Latin America and the Caribbean (UNLIREC)
Donors
ATT Voluntary Trust Fund (VTF)
Contact Details
Organization
United Nations Regional Centre for Peace, Disarmament and Development in Latin America and the Caribbean
Address
Av.Jorge Chávez 275, piso 3, Miraflores Lima, Perú
Phone
(+51 1) 625-9114, (+51 1) 625-9100