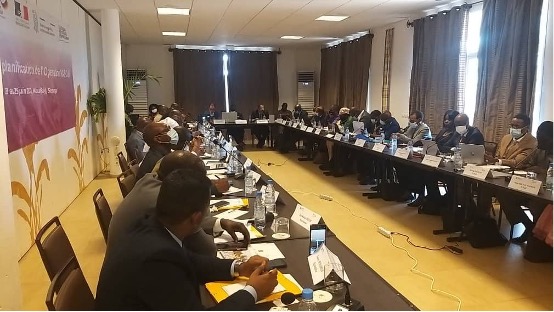 UNODC Global Firearms Programme Regional meeting to strengthen coordination efforts with G5 Sahel
Activity description
On 28 and 29 August 2021, UNODC, through its Global Firearms Programme, organized a coordination meeting with countries in the Sahel region, neighbouring countries and the G5 Sahel in order to address practical ways of fighting illicit firearms trafficking in the sub region as well as in the larger West African region. The meeting gathered national representatives and experts from eight countries as well as the various departments of the G5 Sahel Secretariat. The meeting took place in Saly, Senegal between 28 and 30 June 2021, and was aimed at promoting cross-border cooperation, the exchange of good practices and experiences in arms control and on the investigation and prosecution of firearms related offenses, as well as their links to organized crime, including terrorism.
The meeting gathered participants from Burkina Faso, Chad, Cote d'Ivoire, Guinea, Mali, Mauritania, Niger and Senegal. The G5 Sahel was represented by the heads of its departments of Defence and Security; Borders; as well as its Platform for Security Cooperation (PCMS in French). Participants were able to exchange views on coordination at the operational law enforcement level and subsequent follow up in the justice system; and the importance of threat assessments and understanding the particularities of the firearms problem in the sub region, inter alia.
Project description
The event was part of a series of activities with the overall objective of strengthening the criminal justice chain in target countries and in the region, particularly on the subject of firearms trafficking, which are possible thanks to the contributions from the Governments of France, Germany and Italy.
Type of Activity

Institutional capacity-building

Technical material or financial assistance
Focus of Activity
International instruments
Inventory and stockpile management
Small arms and light weapons (SALW) controls
Transit and trans-shipment controls
Partners
Implementers
United Nations Office on Drugs and Crime (UNODC)
Donors
Contact Details
Contact Person
Simonetta Grassi, Chief of Firearms Trafficking Section E-mail: simonetta.grassi@un.org
Organization
United Nations Office on Drugs and Crime – UNODC, Firearms Trafficking Section, Organised Crime and Illicit Trafficking Branch, Division for Treaty Affairs