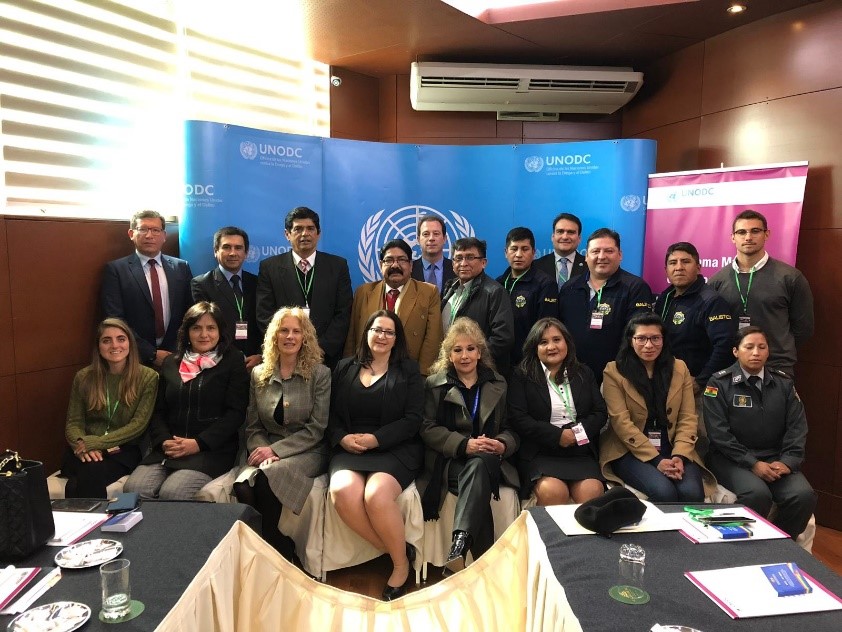 UNODC Legislative workshop in Bolivia
Activity description
On 17-18 July 2019, UNODC through its Global Firearms Programme (GFP), in collaboration with the Plurinational State of Bolivia, organised an inter-institutional workshop to train prosecutors and judges from Bolivia to more effectively implement the national legislation on the control of firearms, ammunition, explosives and related materials, namely, Act 400 and its relevant regulations.
Over the two days' workshop, speakers then addressed a number of relevant topics during different sessions, such as: which attributions and competences are conferred under Law 400; harmonisation of the technical language on firearms to enhance inter-institutional cooperation; the functioning of national registries of firearms and tracing mechanisms to encourage effective investigations after their seizures; criminal definitions and their constituent elements; national and international tracing requests of firearms as part of the investigations and prosecutions; existing mechanisms and tools for international cooperation within UNTOC and the Firearms Protocol and other international instruments of arms control; and final disposition of seized firearms. 
Experts from National Police, Ministry of Defence, INTERPOL and UNODC were among the speakers who informed the participants about the theory and practice of firearms and the importance of their proper identification. Moreover, the workshop also increased collective knowledge and enhanced the use of common language on firearms among professionals and institutions, which aims to facilitate their cooperation and to prevent and combat the illicit trafficking in Bolivia.
Project description
This activity was part of the  UNODC's EU funded project: "Countering transnational illicit arms trafficking through the implementation of the United Nations Convention Against Transnational Organized Crime and its Firearms Protocol". 
Type of Activity

Sensitization and outreach
Focus of Activity
International instruments
Inventory and stockpile management
Partners
Implementers
United Nations Office on Drugs and Crime (UNODC)
Donors
Contact Details
United Nations Office on Drugs and Crime – UNODC     
Vienna International Centre, Room E1245
Tel.: (+43-1) 26060
E-mail: gfp@un.org
Point of Contact: Silvia de Pedro
Phone: (+43-1) 26060-83288
E-mail: silvia.depedro@un.org