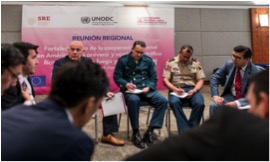 UNODC Regional meeting to strengthen cooperation in South America to prevent and combat illicit trafficking in firearms and related crimes II
Activity description
On 13-15 November 2019, UNODC's Global Firearms Programme has organised, in close collaboration with the Government of Mexico and UNODC Mexico, a regional meeting to strengthen cooperation in Latin America to prevent and combat illicit trafficking in firearms and related crimes.
Several conclusions were formulated during the meeting, such as the necessity to improve the cooperation and information sharing both at national and international level, the importance of data collection and analysis for evidence-based decisions, the need to strengthen legal frameworks, and the capacity building of prosecution, law enforcement and customs authorities to carry out effective detections, criminal investigations and prosecution for illicit arms trafficking. Themeeting offered the opportunity for Latin American experts in countering illicit firearms to establish channels of communication and cooperation among them
Project description
This activity was part of the UNODC's EU funded project: "Countering transnational illicit arms trafficking through the implementation of the United Nations Convention Against Transnational Organized Crime and its Firearms Protocol".
Type of Activity

Sensitization and outreach
Focus of Activity
International instruments
Inventory and stockpile management
Partners
Implementers
United Nations Office on Drugs and Crime (UNODC)
Donors
Contact Details
United Nations Office on Drugs and Crime – UNODC     
Vienna International Centre, Room E1245
Tel.: (+43-1) 26060
E-mail: gfp@un.org
Point of Contact: Silvia de Pedro
Phone: (+43-1) 26060-83288
E-mail: silvia.depedro@un.org